Christmas Lights
---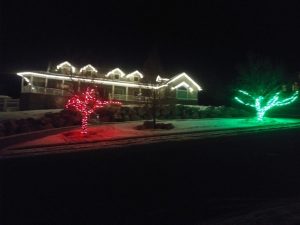 Make your holidays sparkle with Christmas light design and installation that will add a festive touch to your home this Christmas Season. From classic white lights to colored lights, our design services will help you select the right fit for your home.
We're Christmas light installers equipped with all the professional tools required to properly and safely install your lights to get your home sparkling beautifully. All of our lights are checked prior to us installing them, providing you the assurance of a job well done. We include newly installed bulbs, timers, custom cut & fitted strips, and clips.
If you would like to liven up your home for the Christmas Season let us help you by installing custom Christmas Lights on your home. We service Cache Valley and surrounding areas.
Benefits of Hiring Professionals for Christmas Light Installation
Commercial grade products that last
You don't have to be outside in the freezing cold to get your lights up
You don't have to risk falling off your roof and having an ER visit
You can have the best looking house on the block without all the work
We're 100% insured
---
Find the information you need? Then fill out our Free Estimate form and one of our experts will contact you to discuss your landscape needs. Still have questions? Feel free to Contact Us. We are always happy to answer any concerns you may have. For Fastest Service, give us a call at 435-752-5890.