Lawn Treatments
---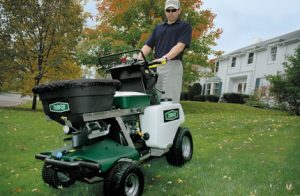 Are you tired of all the dandelions?  We are here to help.  Let us help you customize a fertilization and weed control program to give you the healthiest, greenest lawn in the neighborhood.
Our treatments include granular slow release fertilizer pellets and liquid applications for weed control. Our 5 step fertilization programs includes pre-emergents in the spring, with fertilizer included in each application. A total broadleaf weed control application is applied in the spring and then spot treatment liquid weed control applications are applied as needed throughout the rest of the season. If for whatever reason you have weeds popping up between applications we will come and re-spray your lawn for free.
Having a consistent fertilization program is the #1 key to having the greenest, thickest, healthiest lawn possible. If you have pesky grubs that like to show up every Summer, we'll treat for those as well.
---
Find the information you need? Then fill out our Free Estimate form and one of our experts will contact you to discuss your landscape needs. Still have questions? Feel free to Contact Us. We are always happy to answer any concerns you may have. For Fastest Service, give us a call at 435-752-5890.