Dethatching
---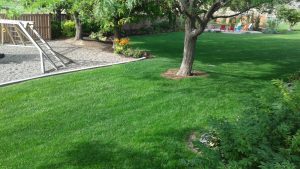 Has spring arrived only to find that your lawn has been matted down from all the snow lying on your lawn or are you seeing snow mold? Let our team come and help you get your lawn cleaned up and ready for spring.
We use dethatching rake attachments on the front of our mowers that rake through the grass and pull out the dead matted down grass to help the lawn air out and remove the dead thatch build up.
We bag and haul away all of the debris so there isn't any work for you to have to worry about. De-thatching is also a good way to help get rid of snow mold by airing out the matted down grass.
---
Find the information you need? Then fill out our Free Estimate form and one of our experts will contact you to discuss your landscape needs. Still have questions? Feel free to Contact Us. We are always happy to answer any concerns you may have. For Fastest Service, give us a call at 435-752-5890.