Lawn Mowing
---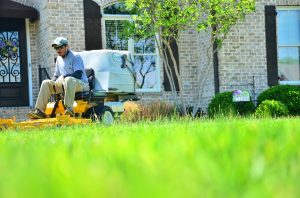 Our weekly mowing visits include mowing, trimming around all fence lines, swing sets, houses, etc, blade edging as needed and blowing off all debris from the sidewalks, driveways and patio areas.  We use top of the line Walker Mowers to bag your grass clippings to maintain a neat and clean appearance.
We have found that with how thick and fast Kentucky Bluegrass grows, bagging the clippings leaves your lawn looking the very best.  Trying to mulch just leaves too much mess to give your lawn the beautiful look it deserves.  We want your children and grandchildren to be able to run around and play in the yard without becoming covered in grass clippings to be tracked all over inside your house!  It is also good to know we recycle the clippings by giving them to local farmers or dropping them at the local landfill where they are used as compost.
With our current mowing schedule we don't offer one-time mows unless you are a client that we are already performing another service for, such as aeration or fertilization and weed control.  Our goal is to provide the best service and results possible and have found that we are unable to do this with one-time mows.
---
Find the information you need? Then fill out our Free Estimate form and one of our experts will contact you to discuss your landscape needs. Still have questions? Feel free to Contact Us. We are always happy to answer any concerns you may have. For Fastest Service, give us a call at 435-752-5890.